Noni Pups 2014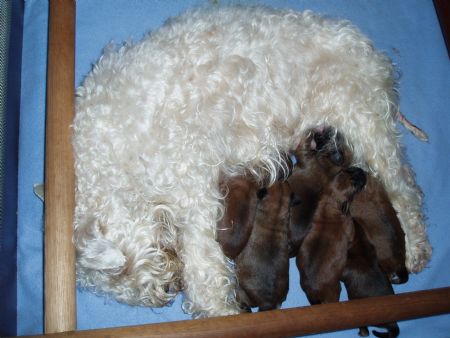 Noni pups, 2 males & 5 females delivered 17 May 2014
We are excited about this litter, our first using frozen semen with state of the art TCI (non surgical AI) . Noni had 9 lovely pups in 2012 with Swedish champion import Snorre, so we are hoping for more nice babies from Ture, also from Sweden.
I was very impressed with Ture when I saw him in Sweden in July 2013, a lovely young dog, with wins in strong competition and one certificate remaining to gain his Swedish Championship. Ture is a sweet boy with an impressive pedigree including dogs with good health records and quality conformation attributes.
Thanks to Kennel Honeyrags for helping make this happen.
Sire :- (Ture) Honeyrags Rambling Rebel
Hip score B, PLN gene varient Homozygous Clear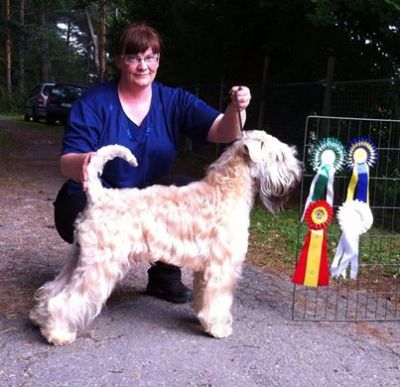 Dam :- (Noni) Aust, Ch Saphyr Hazelnut Delight RN
Hip Score 10, PLN gene varient Homozygous Clear, ACES Eye Test Normal, Kidney Ultrasound Normal

The 5 generation COI (Coefficient of Inbreeding) for this litter is 2.5
PARENTS

GRAND-
PARENTS

GREAT GRANDPARENTS

GREAT GREAT GRANDPARENTS

GGG GRANDPARENTS

Honeyrags Rambling Rebel

INT CH Honeylees Lord of My Heart

INT CH Neverlasting's Forever More

CAN AM CH Choroschie Drusja's Humphrey Bogart

Dk D Ch Danterri Wheaten Kris
Wheaten Rebel's Larrissa

INT CH Wheaten Rebel's Kiki Dee

Int D Dan L Ned Aus Ch Danterri Wheaten Man About Town
INT CH Wheaten Rebel's Vicky Victory

Wheaten Rebel's Wait'N'See

Int D Dan L Ned Aus Ch Danterri Wheaten Man About Town

CH Lenter Wheaten Bali Tiger
Int Dk Mon Ch Danterri Wheaten Grainne

Int D Ch Wheaten Rebel's Ornella My Love

Dk D Ch Danterri Wheaten Kris
Int D Dk Ned Ch Wheaten Rebel's Bagheera Lass

Honeyrags Kildun Mayflower

Feanaro Jarfhlaith Curran

Feanaro Bragollach Morchaint

Curran cassidy v D Keienhorst
Feanaro Anna Ar Meliian

Feanaro Eireann Kleio

INT CH Geijes Kilmore
Feanaro Bragollach Laurelin

Honeyrags Hillside Heather

Gaelic Wheatens Dawn Rebel

Dk D Ch Danterri Wheaten Kris
Zarosan Eileen of Eire

Honeyrags Floraidth

Kealdale Avondale
Gladovics Catalina

Aust Ch Saphyr Hazelnut Delight

Larnook King of Swing

Am Can Ir Ch Geragold Orla Finlandia

MULTI CH Never Lasting's A Star Is Born

Dk D Ch Danterri Wheaten Kris
INT CH Wheaten Rebel's Kiki Dee

Geragold Lady Lavery

US Ch Wheaten Rebel's Odessa File
Geragold Tekiri

Aust. Ch, Am. Ch Geragold Tinkers Wedding

Soldiersong Fianna Boy

Mex US Ch Danterri Wheaten Tycoon
US Ch Wheaten Rebel's Raleigh At Celtic

Am Ch Geragold Daughter Of Aran

US Ch Wheaten Rebel's Odessa File
Geragold Tekiri

Aust Ch Larnook Noisette

Aust Ch Lindywheats Macciato

Dan Ch Swd Ch Windisle Don Hugo

Danterri Wheaten Valli
Windisle Champange

Nord. Ch Lindywheats Spicy Secret

MULTI CH Never Lasting's A Star Is Born
Lindywheats Red Hot NSpicy

Aust Ch Larnook Ever Present

Larnook Xanadu

Aust Ch Larnook Paddington
Larnook Moon dance

Aust Ch Larnook Unchained Melody

US Ch Bantry Bay Gleanngay Kashmir
Larnook Nellie OK
Contact Details
Margaret Gray
Saphyr's Run, Sunbury, VIC, Australia
Phone : 0418 410017
Email :
[email protected]